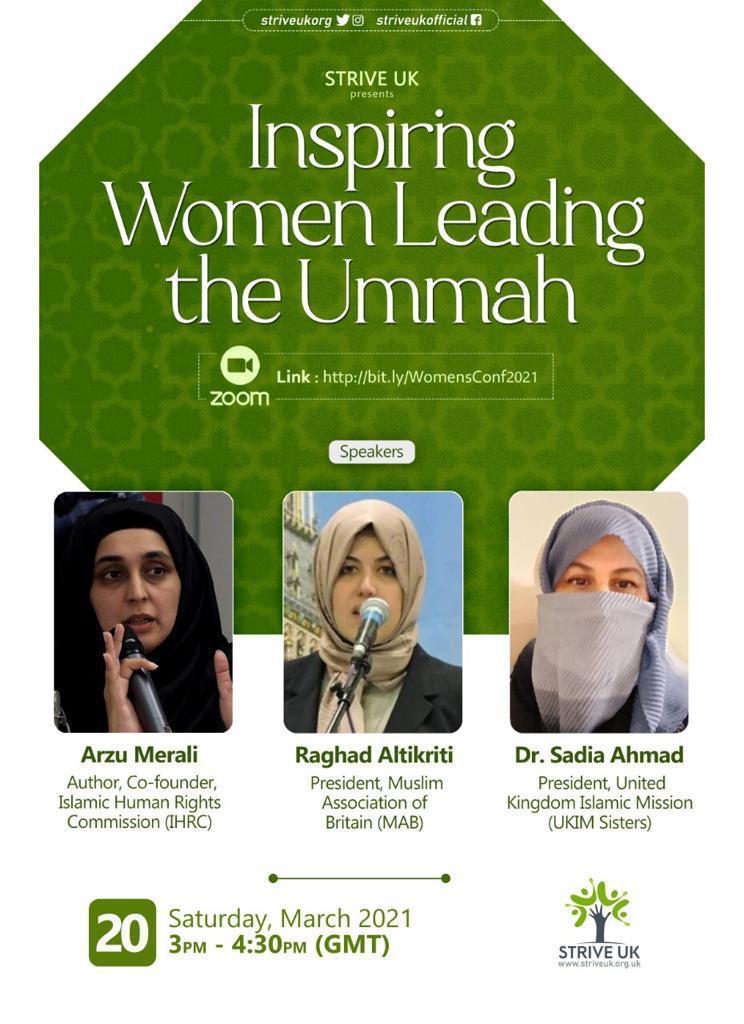 Muslim women, for the most part, lost the esteemed public roles they had gained under the Prophet (PBUH) and his immediate successors, and by and large, an older, deep-rooted ideal of women as inferior, gained greater staying power within religious discourses and society at large. Let's come together to listen to these trailblazing women to unlearn the bias and educate ourselves to appreciate the crucial role women can play within our societies, particularly as leaders.
Time: 15:00-16:30, 20th March 2021
Arzu Merali – Internationally renowned human rights activist, Writer, Researcher, Co-founder of the Islamic Human Rights Commission (IHRC) and Co-author of recent study "Environment of Hate: The New Normal for Muslims in the UK".
Ragad Altikriti – President of Muslim Association of Britain (MAB), Political commentator, specialises in topics concerning Muslim women and youth in the West. Ragad works closely with the European Forum of Muslim Women (EFOMW)
Dr. Sadia Ahmad – a doctor by profession and a medical researcher, also working with British Islamic Medical Association (BIMA) for educating the community regarding Covid-19 pandemic. She is currently working as the head of UKIM sisters section.
Join us via: Zoom
Facebook:
https://fb.me/e/1ZFkwR4ez